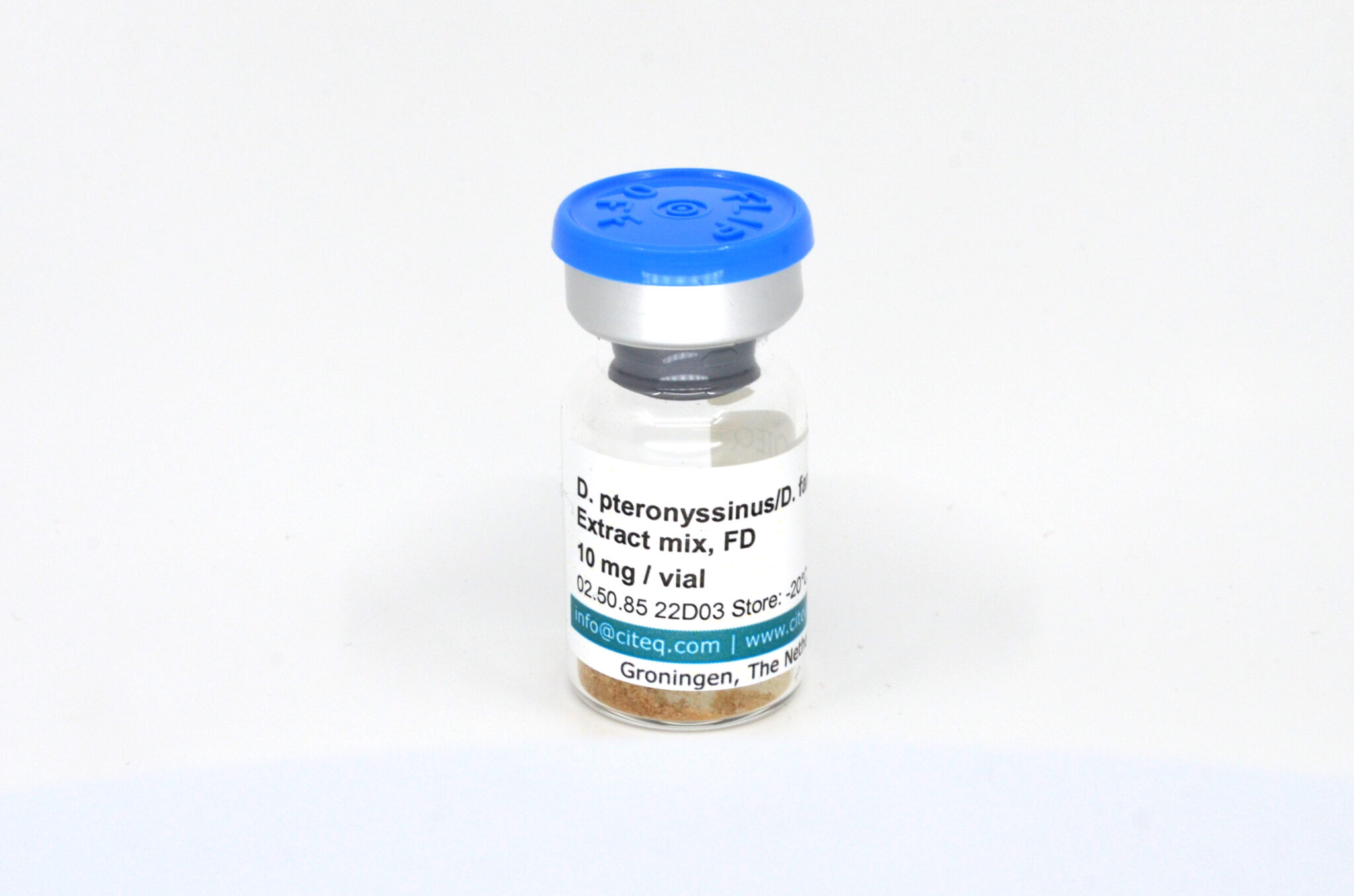 House dust mites
D. pteronyssinus/ D. farinae extract mix
A mix of the D. farinae and D. pteronyssinus extract. D. pteronyssinus and D. farinae house dust mites are used in most studies, that's why we developed a mixture. The mixture is available as a freeze-dried extract.
Freeze-dried
Defined
Customization
Woldwide delivery
Large batches
100% service
All of our products will be send with

Description
Because D. pteronyssinus and D. farinae house dust mites are the most studied species we have developed a mixture of both species. The mixture is available as an extract. Dermatophagoides farinae and Dermatophagoides pteronyssinus are insects from the class arachnid and combined with Euroglyphus maynei these 3 species account for 70-92% of the mites which are present in households. House dust mites are the most prevalent source of indoor allergens. Approximately 1-2% of the world population suffers from house dust mite allergy. Studies across the US, Europe, Asia, South America, New Zealand, Australia and Africa have shown that the house dust mites are present globally.
In our production process we do not add any proteins. The only compound we use in our products which is not strictly from mites is the medium where the mites feed on. This medium contains an absolute low number of non-mite proteins. We try to cultivate the mites with the lowest amount of bacteria and moulds possible. All our house dust mite products contain the native proteins, with no denaturing treatments during production and purification.
We can provide detailed information regarding our products and help you understand how to put it to use for your work. For example see our explanation on comparing protein content measured by BCA and Bradford protein assays by clicking here.
---
Freeze-dried
Our material will be delivered in freeze-dried (lyophilized) form in different sizes so you always have the right amount available and you are assured of stable material.
Defined
Because of our quality system we produce high quality allergen extracts. Our products will be delivered with a certificate that specifies the amount of allergens, level of endotoxin and much more.
Customization
On request we can customize products for you. Please contact us for any specific requests or collaborations.
Woldwide delivery
Our products are used by researchers and diagnostic companies all over the world. We ship our products with FedEx to your country of choice.
Large batches
We produce large batches so you are assured of material from the same batch over a longer period of time. You can even make a reservation for material from a specific lot.
100% service
We have a dedicated team to answer all of your questions. Satisfied customers is our number one priority.
---