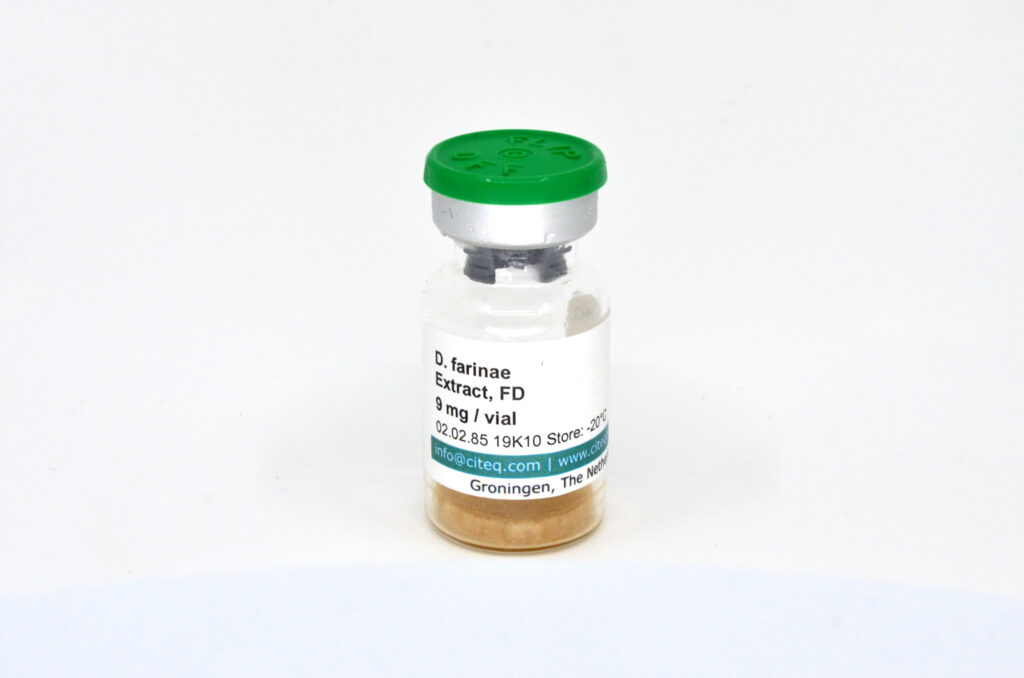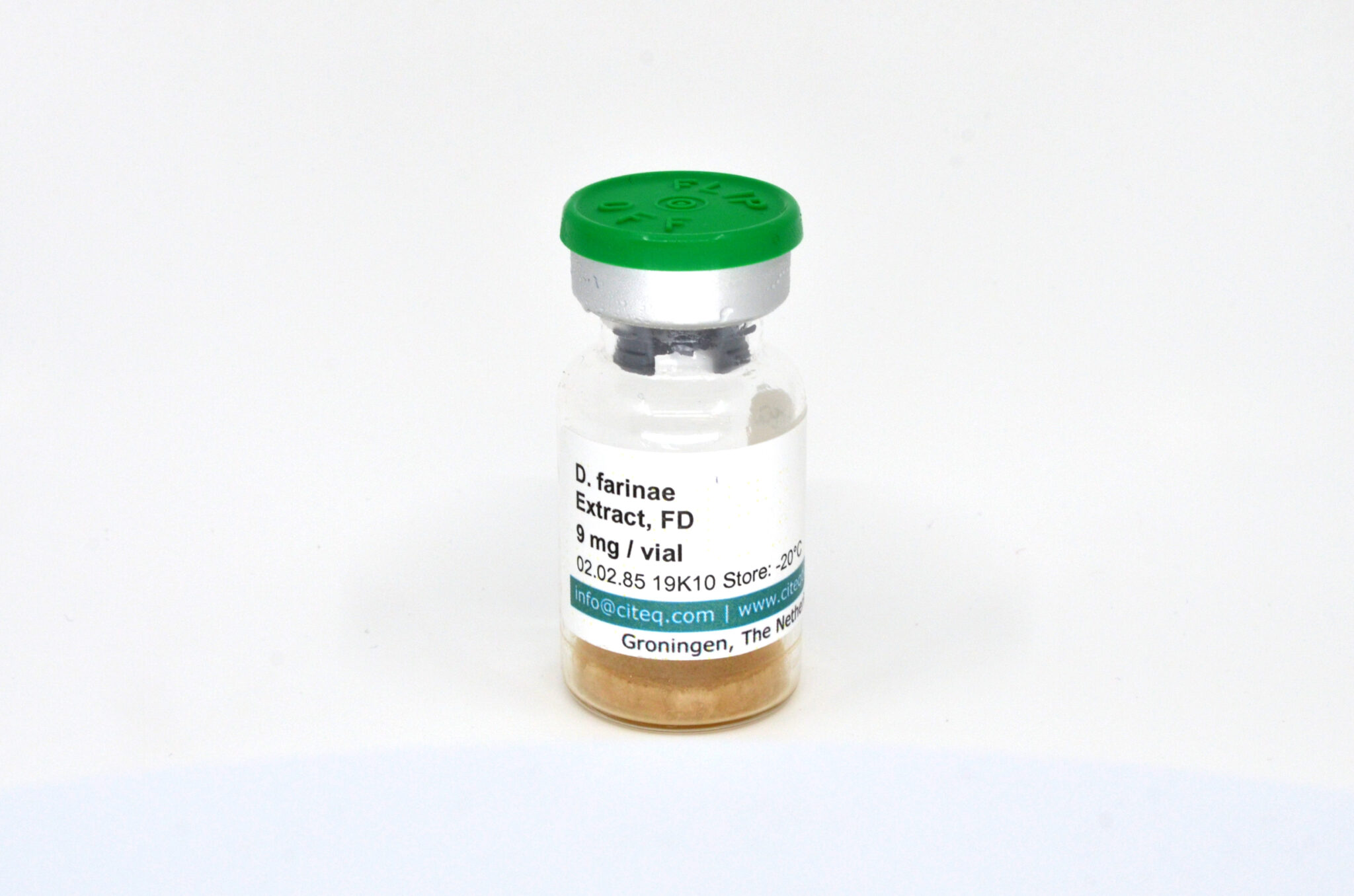 House dust mites
Dermatophagoides farinae extract
Extract of Dermatophagoides farinae whole culture. Extracts are applied in in-vitro diagnostics tests and as standards or active substance in the research of asthma and allergy.
Freeze-dried
Defined
Customization
Woldwide delivery
Large batches
100% service
All of our products will be send with

Description
D. farinae extract
We produce high quality D. farinae extract. Dermatophagoides farinae belongs to the Pyroglyphidae family. Dermatophagoides farinae is the second most important house dust mite (HDM) next to D. pteronyssinus. Our specialty is the production of house dust mites (HDMs) and their allergens. Our strength lies in the control of the whole chain, from cultivation to purification. Our specialty starts with our cultivation medium which has an absolute low in foreign protein. All our house dust mite products contain the native proteins, with no denaturing treatments during production and purification. We deliver D. farinae extracts in the following vials:
D. farinae extract of whole culture (vials of 9mg, 90mg or 1gr total dry weight) Whole culture which is extracted. Extracts are applied in in-vitro diagnostics tests and as standards or active substance in the research of asthma and allergy.
We also have D. farinae available in the following forms: D. farinae purified and D. farinae whole culture.
Available batches and stability
We have compared the D. farinae extract batches which we have available and we have also performed a stability study over the last 5 years. Based on this information, you can make a substantiated choice for a suitable extract. More information and a comparison of the available HDM extract batches can be found on this page.
Certificate of analysis
Each product will be delivered with a certificate of analysis. The certificate of analysis provides information, e.g. allergenic pattern, protein content (BCA and Bradford method), endotoxin level, protein pattern and protease activity. On this page you can find an an example of this certificate. If you want to receive a certificate of analysis before ordering please let us know. We shall send you the certificates of multiple batches so you can compare the batches and choose the batch that meets your requirements.
Large batches
We understand that if you are using source material which is fulfilling your wishes you would like to receive the same material again for future projects. To provide material from the same batch over a longer period of time we produce large batches. This way we have we a lot of material available from a specific batch. You can even place a reservation for future orders.
HDM induced asthma models
Often we receive questions about house dust mite (HDM) induced asthma models. Which models are researchers using, which model do we recommend, what are the differences? To answer these questions we have contacted multiple research institutes all over the world and collected their models and background information. Click on this link for an overview of the available animal models.
Additional information
| | |
| --- | --- |
| Size | 9 mg, 90 mg, 1000 mg |