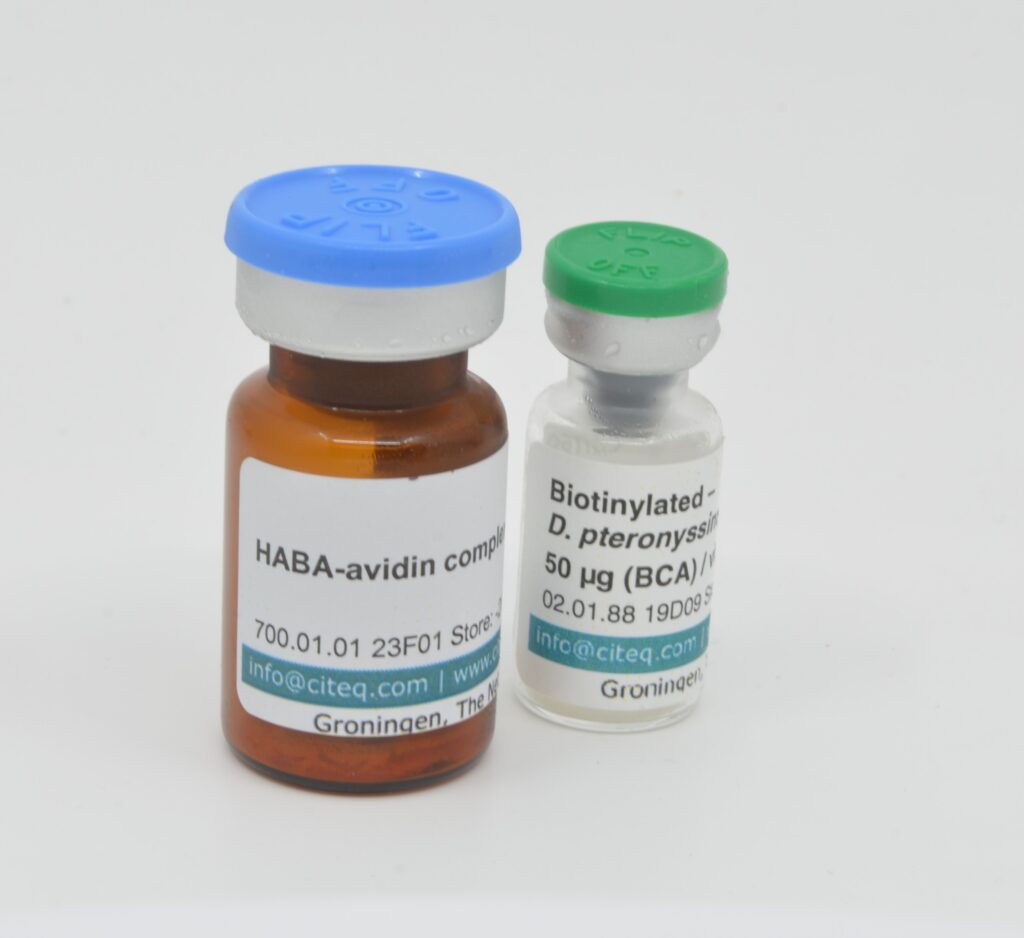 Kits and assays
Haba assay kit
This assay is versatile and can be used for different means, such as detection of biotin in food or products and the quantification of biotin molecules to antibodies. The assay is quick and easy to perform and gives a proper estimate of the amount of biotin present in your samples. To ensure the validity of your reactions, a positive control is provided with this kit. It is the Citeq 02.01.88 D. pteronyssinus biotinylated extract, which can be dissolved easily in a buffer of your choice, making this kit a quick and easy assay with minimal steps. No fluorescence readers are required, making this assay accessible, as only a plate reader will be needed.
Freeze-dried
Defined
Customization
Woldwide delivery
Large batches
100% service
All of our products will be send with

Description
The connection between biotin and avidin and/or streptavidin is one of the strongest non-covalent bonds currently known (Ka = 1015 M-1). This bond can withstand extremes in pH and solvents. Biotin is a small molecule (244 Da) and can bind avidin even when attached to other proteins1, without hindering the activity of these proteins. Most proteins can be biotinylated, allowing for a simple way to connect two elements together. This is utilized in many research applications such as ELISA or immunohistochemistry as to link two antibodies together, allowing for detection of specific proteins. Even tough biotin is a small molecule, it can sterically hinder the protein if too many biotin molecules are added to the primary protein. Therefore it is important to know how many biotin molecules are attached to the main molecule in order to predict its' functionality.
In order to check the amount of biotin molecules attached to a protein, one can perform an HABA assay. 4´-hydroxyazobenzene-2-carboxylic acid (HABA) has a weak affinity to avidin and emits an orange/red color when hydrolyzed. This hydrolyzed HABA can be detected at 500 nm. The affinity between biotin and avidine is much stronger however, so when a sample containing biotin is added, this biotin attaches to the avidin, displacing the HABA in the process. The HABA reverts back to its original state and the absorbance at 500nm decreases proportionately, allowing for determination of the amount of biotin in the sample.
Contents of the kit
1 bottle of HABA-avidin premix (for 10 tests)
1 vial of Citeq biotin standard (30kDa)
Manual
Not provided but necessary: buffers (such as PBS), a cuvet (1mL) or microtiterplate (96-wells), an absorbance reader, pipets (200 µL) with appropriate tips.