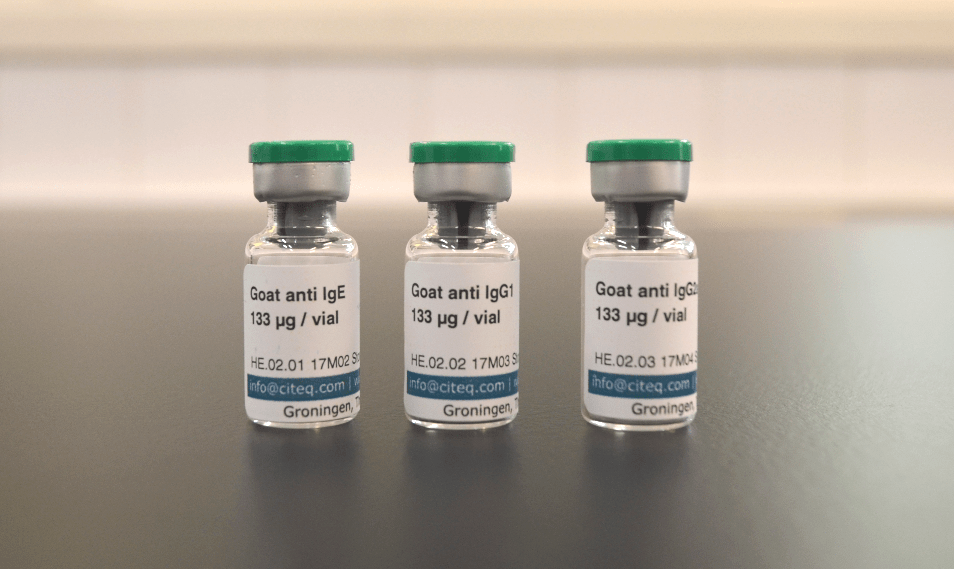 Antibodies
Determination of successful sensitization of mice using biotinylated D. pteronyssinus
Freeze-dried
Defined
Customization
Woldwide delivery
Large batches
100% service
All of our products will be send with

Description
Determination of successful sensitization of mice using biotinylated D. pteronyssinus
Our polyclonal anti-mouse antibodies can be used together with our biotinylated HDM allergen products to quantify HDM allergen specific antibodies in mouse serum using an ELISA method. This kit contains the IgE/ IgG1/ IgG2a antibodies and biotinylated D. pteronyssinus HDM.
Quantification of antigen specific serum antibodies
The antibody can be coated on an ELISA plate and act as a capture antibody to immobilize serum IgE/ IgG1/ IgG2a antibodies. In the next step biotinylated HDM allergens are added to facilitate the detection of HDM allergen specific antibodies of the IgE/ IgG1/ IgG2a isotype. Using a reference serum or by comparing multiple sera the HDM allergen specific antibodies can be (relatively) quantified.
A perfect way for researchers, who are working on allergic asthma research with mouse models, to determine whether immunizations of mice with house dust mite (HDM) have been successful by looking at the amount of specific antibodies against HDM proteins in the serum of mice.
The specificity of the captured antibodies for HDM must be tested with biotinylated HDM or the biotinylated major allergens like biotinylated Der p 1 or biotinylated Der p 2. The antibodies and biotinylated products are available as separate products but are also available in a handy kit which contains the anti-mouse IgE/ anti-mouse IgG1/ anti-mouse IgG2A and biotinylated HDM extract (or biotinylated Der p 1/ biotinylated Der p 2). For more information about biotinylation we have a page which describes the protocol for the biotinylation products and antibodies.
Content of the kit
1 x anti-mouse IgE (sufficient for coating  1 x 96-well plate)
1 x anti-mouse IgG1 (sufficient for coating  1 x 96-well plate)
1 x anti-mouse IgG2A (sufficient for coating  1 x 96-well plate)
You can choose from the following biotinylated products:

Biotinylated D. pteronyssinus (HDM) extract
Biotinylated Der p 1
Biotinylated Der p 2
This kit does not include the standard and reference mouse serum. Both can be delivered on request, please contact us for more information.
Pricing and orderinformation
Our products are available for worldwide shipping and are sent with FedEx. Orders are shipped within 24 hours after receipt of your order. For more information and pricing please send us an e-mail or give us a call. We will respond as soon as possible.
You can send us your request on our e-mail address info@citeq.com, give us a call +31(0)50-3137464 or fill in our contact form.
---
Freeze-dried
Our material will be delivered in freeze-dried (lyophilized) form in different sizes so you always have the right amount available and you are assured of stable material.
Defined
Because of our quality system we produce high quality allergen extracts. Our products will be delivered with a certificate that specifies the amount of allergens, level of endotoxin and much more.
Customization
On request we can customize products for you. Please contact us for any specific requests or collaborations.
Woldwide delivery
Our products are used by researchers and diagnostic companies all over the world. We ship our products with FedEx to your country of choice.
Large batches
We produce large batches so you are assured of material from the same batch over a longer period of time. You can even make a reservation for material from a specific lot.
100% service
We have a dedicated team to answer all of your questions. Satisfied customers is our number one priority.
---