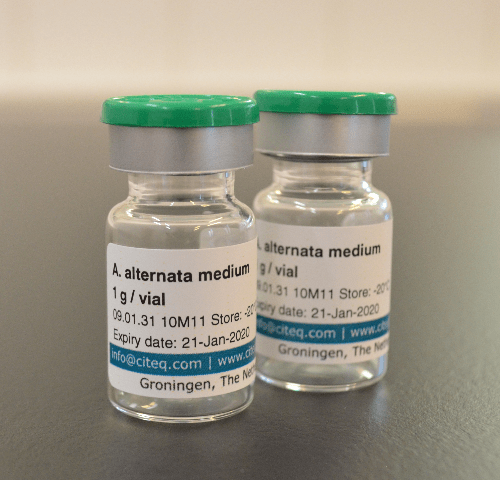 Molds (Fungi)
Alternaria alternata medium
Extracted medium of Alternaria alternata.
Freeze-dried
Defined
Customization
Woldwide delivery
Large batches
100% service
All of our products will be send with

Description
Alternaria alternata mold (fungi)
Alternaria alternata belongs to the Pleosporaceae family. Alternaria spores can reach levels of thousands of spores per cubic meter of air in temperate areas from spring to fall. 70% of mold-allergic patients have IgE reactivity to Alternaria. A. alternata spores are especially high in the outdoor air during summertime. Alternaria alternata is an important allergen with mycelial fragments and airborne spores, these characteristics are accountable for the allergic symptoms in human with rhinitis, bronchial asthma or skin diseases.
The freeze dried medium can be used for detection of IgE antibody in serum. The purity of the medium contains the highest amount of Alt a 1, the major allergen of Alternaria alternata. Citeq produces moulds with shaking incubation. The product is the result of filtration of the mycelium and spores. This filtrated medium is concentrated, dialysed and freeze-dried. With this method the freeze dried medium contains only products produced by the moulds. It contains no medium and no spores. Due to concentration and dialysis there is a high amount of proteins in the product available.
Read more about dissolving the medium extract on this page. On this page we report on the solubility of lyophilized Alternaria alternata medium extract.
We deliver Alternaria alternata in the following forms:
Medium (vial of 10mg) The medium of the mould extracted, the mould feeds on this medium.

Mycellium: We extract the mycelium with a specific buffer, filtrate it, dialyse this and freeze dry it, this is the mycelium; part of the moulds.
The advantages of our material
Defined allergen source material, we deliver our material with extensive information about the amount of allergens in our material so you really can tell what you are using for your application.
Large batches, we produce in large batches so we can deliver from the same batch over a longer period of time. This means you are assured of the same material and consistency. If you are using our material and you are satisfied with it you can even place a reservation of a specific lot so you will receive the same material in the future.
Freeze-dried, our material will be delivered in freeze-dried form (lyophilization) to assure a long shelf life and can easily be used to reach targeted dilutions.
Additional information
| | |
| --- | --- |
| Size | 10 mg vial, 50 mg vial |
---
Freeze-dried
Our material will be delivered in freeze-dried (lyophilized) form in different sizes so you always have the right amount available and you are assured of stable material.
Defined
Because of our quality system we produce high quality allergen extracts. Our products will be delivered with a certificate that specifies the amount of allergens, level of endotoxin and much more.
Customization
On request we can customize products for you. Please contact us for any specific requests or collaborations.
Woldwide delivery
Our products are used by researchers and diagnostic companies all over the world. We ship our products with FedEx to your country of choice.
Large batches
We produce large batches so you are assured of material from the same batch over a longer period of time. You can even make a reservation for material from a specific lot.
100% service
We have a dedicated team to answer all of your questions. Satisfied customers is our number one priority.
---