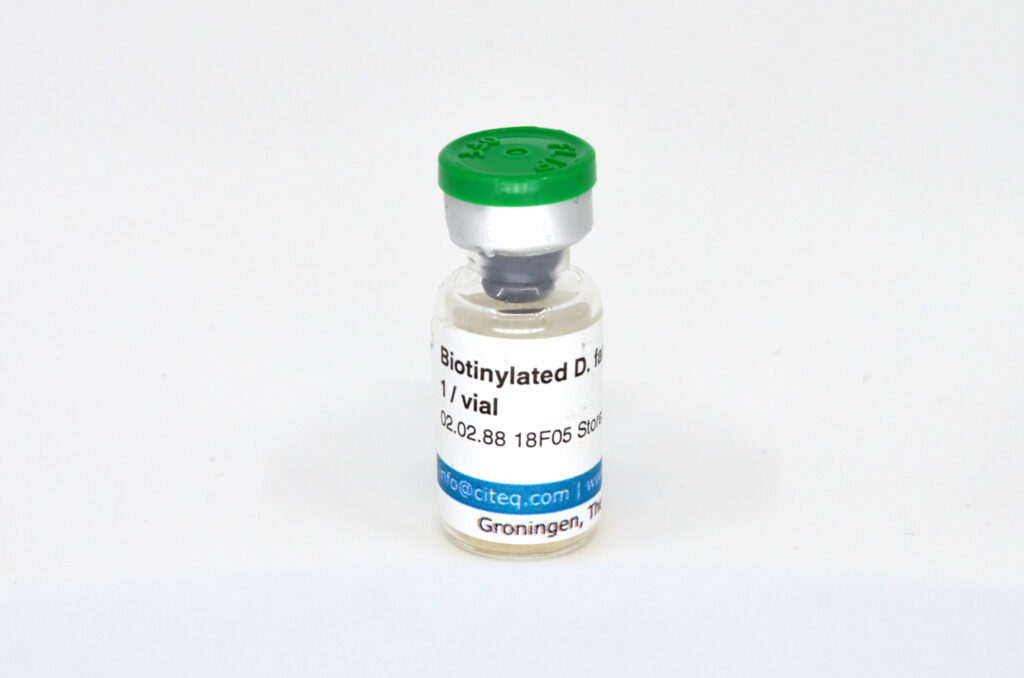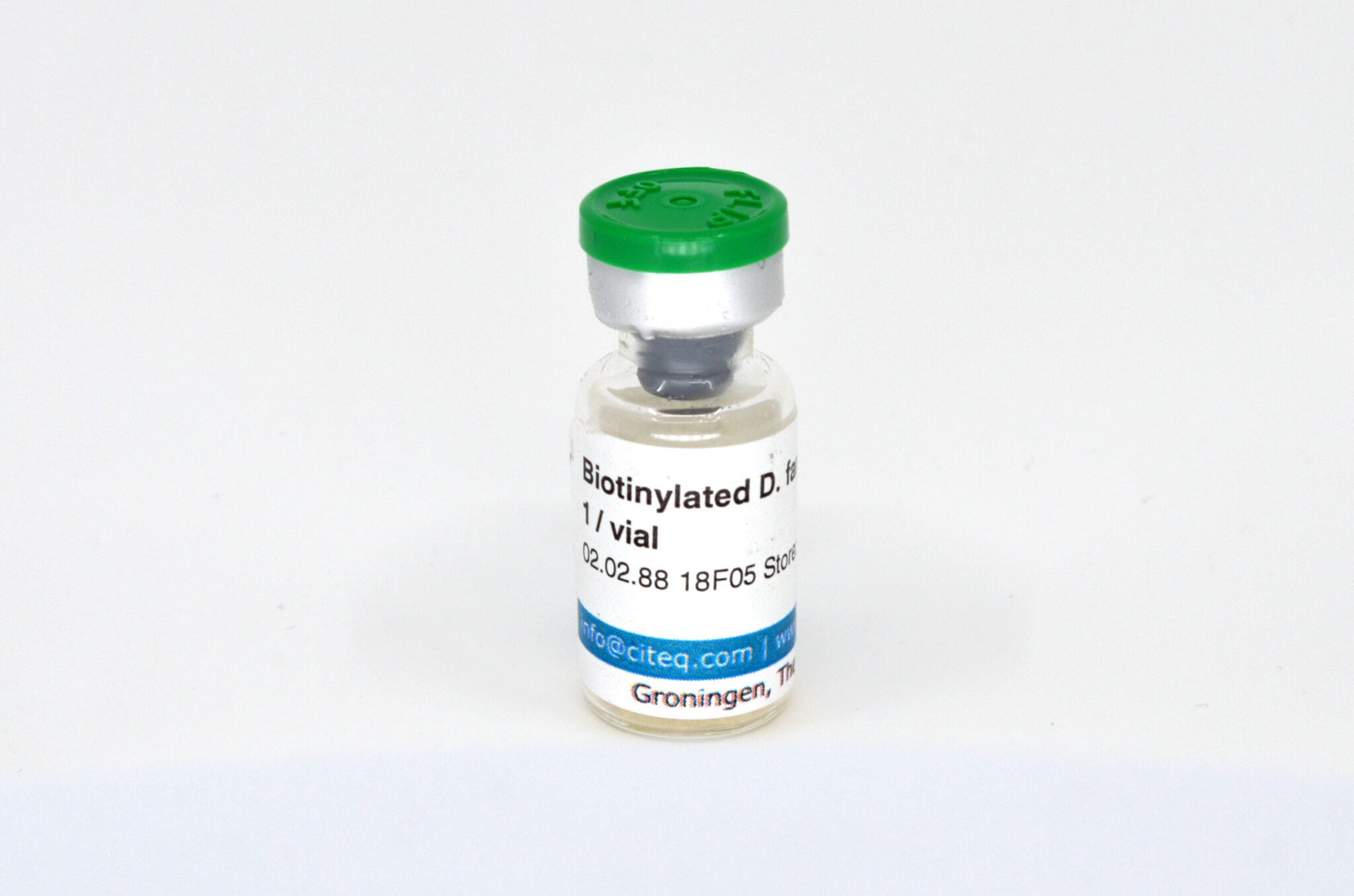 Biotinylated material
Biotinylated D. farinae extract
Biotinylated Dermatophagoides farinae extract. One vial of biotinylated D. farinae extract is sufficient for coating of two 96 Microwell plates.
Freeze-dried
Defined
Customization
Woldwide delivery
Large batches
100% service
All of our products will be send with

Description
The unique biotinylated D. farinae extract was developed especially for research and diagnostic groups. Biotinylated D. farinae extract can be used to detect specific antibodies in the serum of animal models and/or patients. For example, in animal models, detecting specific D. farinae antibodies can show that the animal is correctly immunized, or that the animal reacts to the treatment (an increase or decrease in levels of specific antibodies). When specific Df-antibodies are detected in patients, it shows high levels of specific Df-antibodies, which indicate that the patient has a house dust mite allergy.
During biotinylation, biotin is attached to macromolecules or proteins. Biotinylated proteins can be used to detect and/or purify proteins due to the high specificity of biotin-avidin interaction. Citeq has developed biotinylated proteins related to house dust mites. These biotinylated proteins include D. pteronyssinus (HDM) extract and the naturally purified Der p 1 protein and Der p 2 protein. Biotinylated proteins can be applied in many protein assays, including western blot analysis, fluorescence-activated cell sorting (FACS)/flow cytometry, and enzyme-linked immunosorbent assay (ELISA).
One vial of biotinylated HDM extract is sufficient for coating of two 96 Microwell plates. On this page you can read more about biotinylation and the protocol for our biotinylated proteins.
---
Freeze-dried
Our material will be delivered in freeze-dried (lyophilized) form in different sizes so you always have the right amount available and you are assured of stable material.
Defined
Because of our quality system we produce high quality allergen extracts. Our products will be delivered with a certificate that specifies the amount of allergens, level of endotoxin and much more.
Customization
On request we can customize products for you. Please contact us for any specific requests or collaborations.
Woldwide delivery
Our products are used by researchers and diagnostic companies all over the world. We ship our products with FedEx to your country of choice.
Large batches
We produce large batches so you are assured of material from the same batch over a longer period of time. You can even make a reservation for material from a specific lot.
100% service
We have a dedicated team to answer all of your questions. Satisfied customers is our number one priority.
---