Back to overview
Citeq at the ISMA in Amsterdam
Later this week (28-30 November) we will be present at the International Symposium on Molecular Allergology (ISMA) in Amsterdam. You can find us during the exhibition at booth 1 and we would be glad to welcome you there!

ISMA 2019
Over the past decade, molecular allergology has gained increasing impact on the field of allergy diagnosis and allergen immunotherapy. Allergen molecules have been linked to allergic phenotypes and to disease trajectories, they are gaining interest as biomarkers for selection of patients for immunotherapy, and they have reached a foothold in food allergy diagnostic algorithms. Microarray and multiplex technologies as well as novel techniques allowing simultaneous single-cell analyses for increasing numbers of parameters are a revolution in research opportunities. This advent of "big data" has sparked off innovative bio-statistic and bioinformatic approaches for data analysis. At the same time, these developments raise questions about implementation of this wealth of information into daily clinical practice. ISMA is the place to discuss the newest developments in the field of molecular allergology and the impact they will have on allergy diagnosis and therapy.
Which information will be presented
Besides our allergen extracts we will be presenting our HDM ELISA kits, biotinylated HDM products and the unique standards of purified major allergens from HDM.
Also we would like to inform you about mycoplasma and other mollicutes in house dust mites. Several mites from different suppliers have been screened for the presence of Mollicutes. Results showed that it is very likely that house dust mite source material of the 5 suppliers that were examined contain Mycoplasma after detection with PCR using universal mycoplasma primers. By using 11 species specific Mollicute primers it was found that Mycoplasma Pneumoniae is present in Dermatophagoidus farinae mites. Based on our results, we recommended that HDM product suppliers should test all their products on Mollicutes.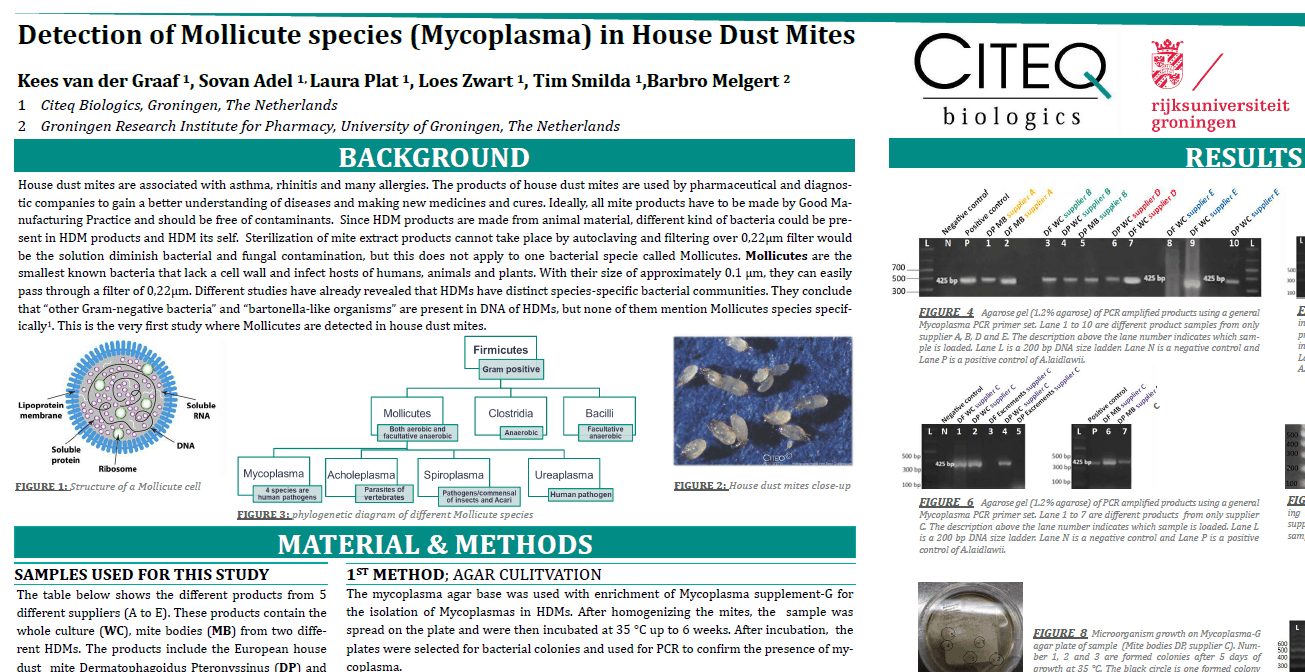 Well defined source material is key to linking biological activity to compounds in house dust mite products. An undetected mycoplasma contamination can skew results and lead to false conclusions which is why Citeq will be the first to include mycoplasma analyses in it's certificates of analyses.
We look forward to welcoming you at our booth at the ISMA?
Back to overview