Induced asthma – Acute challenge model (21 days)
Induced asthma – Acute challenge model (21 days)
Model 4: Acute challenge model (21 days)
Description: Challenged with HDM by intranasal administration on days 2, 4, 6, 9, 11, 13, 16,18,20. Mice were sacrificed 24 hours after the last challenge.
Duration: 21 days
Attributes: Acute challenge model
Endpoints: Airway hyper-reactivity and detailed lung mechanics; flexiVent™. Histopathology and immunohistochemistry. Total and differential cell count in the BALF/Lung.
Material used: D. pteronyssinus extract from Citeq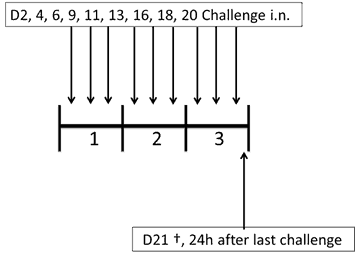 Lung function: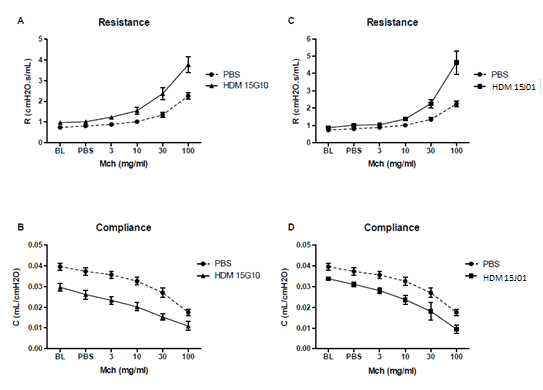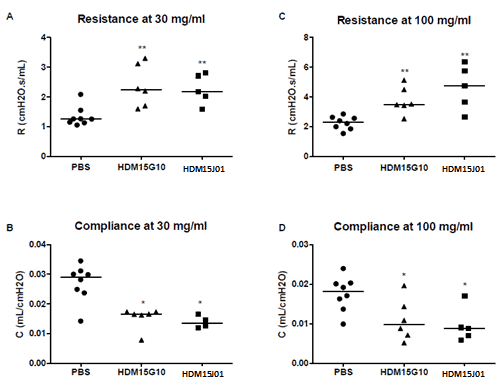 Increase in airway resistance and decrease in airway compliance is equal across different batches of Citeq HDM extracts.
H&E staining: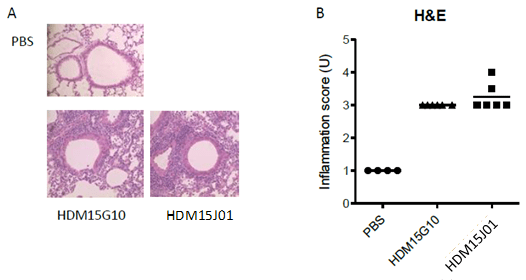 HDM extract causes inflammation of the airway
Differential cells analysed by flow cytometry:

Botch batches of Citeq induce a response in alveolar macrophage (AM), eosinophil (E) and neutrophil (N) cells. Batch 15J01 induces a larger response in comparison to batch 15G10.