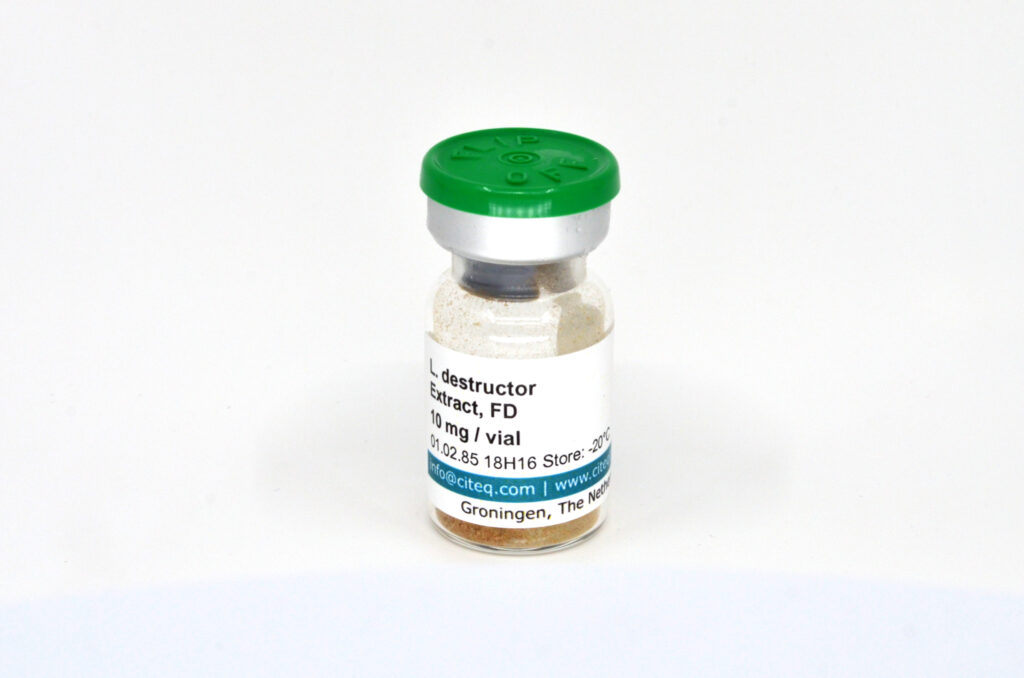 Storage mites
Lepidoglyphus destructor extract
Freeze-dried extract of Lepidoglyphus destructor whole culture.
Freeze-dried
Defined
Customization
Woldwide delivery
Large batches
100% service
All of our products will be send with

Description
Lepidoglyphus destructor, also known as storage mite, belongs to the Acaridae family. In Europe, Lepidoglyphus destructor has been reported to be a major source of mite allergy in rural and urban environments. Our Lepidoglyphus destructor extract is delivered in freeze-dried form and available from stock. This mite is usually found in places where animal and plant food are produced and the humidity is very high. Therefore, it doesn't come as a surprise that Lepidoglyphus destructor is generally stored in hay and frequently causes respiratory allergies among farm workers. Moreover, it is present in 21-38% of the commercially purchased cereal based foods.
These mites feed on variety of protein – rich compounds, above all on plants and microorganisms. Furthermore they  grow at a relative air humidity of 65 – 100%, prefer light environment and temperatures between 20 – 30°C.
A number of allergenic proteins have been isolated from Lepidoglyphus destructor. 90% of patients are allergic to Lep d 2, which has its two variants Lep d 2.0101 and Lep d 2.0201. It has been pointed out that Lep d 5, Lep d 7 and Lep d 13 respectively bind to 9%, 62% and 13% sera from L. destructor sensitised subjects.
Certificate of analysis
Each product will be delivered with a certificate of analysis. The certificate of analysis provides information, e.g. allergenic pattern, protein content (BCA and Bradford method), endotoxin level, protein pattern and protease activity. On this page you can find an an example of this certificate. If you want to receive a certificate of analysis before ordering please let us know. We shall send you the certificates of multiple batches so you can compare the batches and choose the batch that meets your requirements.
Large batches
We understand that if you are using source material which is fulfilling your wishes you would like to receive the same material again for future projects. To provide material from the same batch over a longer period of time we produce large batches. This way we have we a lot of material available from a specific batch. You can even place a reservation for future orders.
Worldwide shipping
We deliver our products worldwide. Are you interested in ordering our products? Please contact us for a quotation and the actual delivery costs. You can contact us through info@citeq.com, +31(0)50-3137464 or fill in our contact form. 
---
Freeze-dried
Our material will be delivered in freeze-dried (lyophilized) form in different sizes so you always have the right amount available and you are assured of stable material.
Defined
Because of our quality system we produce high quality allergen extracts. Our products will be delivered with a certificate that specifies the amount of allergens, level of endotoxin and much more.
Customization
On request we can customize products for you. Please contact us for any specific requests or collaborations.
Woldwide delivery
Our products are used by researchers and diagnostic companies all over the world. We ship our products with FedEx to your country of choice.
Large batches
We produce large batches so you are assured of material from the same batch over a longer period of time. You can even make a reservation for material from a specific lot.
100% service
We have a dedicated team to answer all of your questions. Satisfied customers is our number one priority.
---