Back to overview
HDM extract dose dependent increase observed in IL-33 levels
During the EAACI congress next week in Helsinki (Finland) a poster will be presented by L.S. van Rijt (AMC, Amsterdam, the Netherlands) using our HDM products. The subject of this poster is: evaluation of a murine allergic asthma model to study immunotherapy with purified Der p 1 and Der p 2. 
Experimental design
Method
Lung tissue was digested and IL-33 was determined in the supernatant.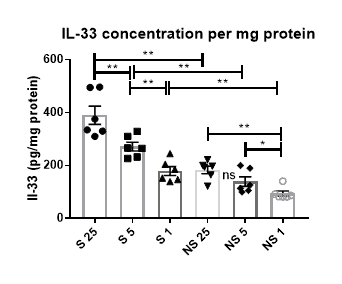 An experimental setup which was outsourced demonstrated a dose dependent increase. This HDM dose dependent increase was detected within IL-33 levels in digested lung tissue in mice. Normally IL-33 is only released by necrotic cells. However IL-33 also seems to play a role in the innate immune response to inhaled HDM allergens. This experiment indicates that IL-33 is increased after HDM allergen exposure. Overall, sensitized mice show a higher level of IL-33 response in comparison with non-sensitized mice. Nevertheless, in both groups 25 µg HDM had an increased IL-33 level compared to 5 µg HDM, and 5µg HDM had an increased IL-33 level compared to 1 µg HDM. The source of IL-33 is thought to exist of recruited cells and increased levels in HDM exposed epithelium cells. Figure 2 shows a clear HDM dose dependent increase in IL-33 levels, indicating that a higher challenge with HDM results in an increased level of IL-33.
The full poster will be published on the EAACI Congress 2017 website, on 17 June 2017. Please contact us if you want to receive more information.
Experiments performed by: van Rijt, L.S. (2017), AMC, Amsterdam, The Netherlands
Back to overview