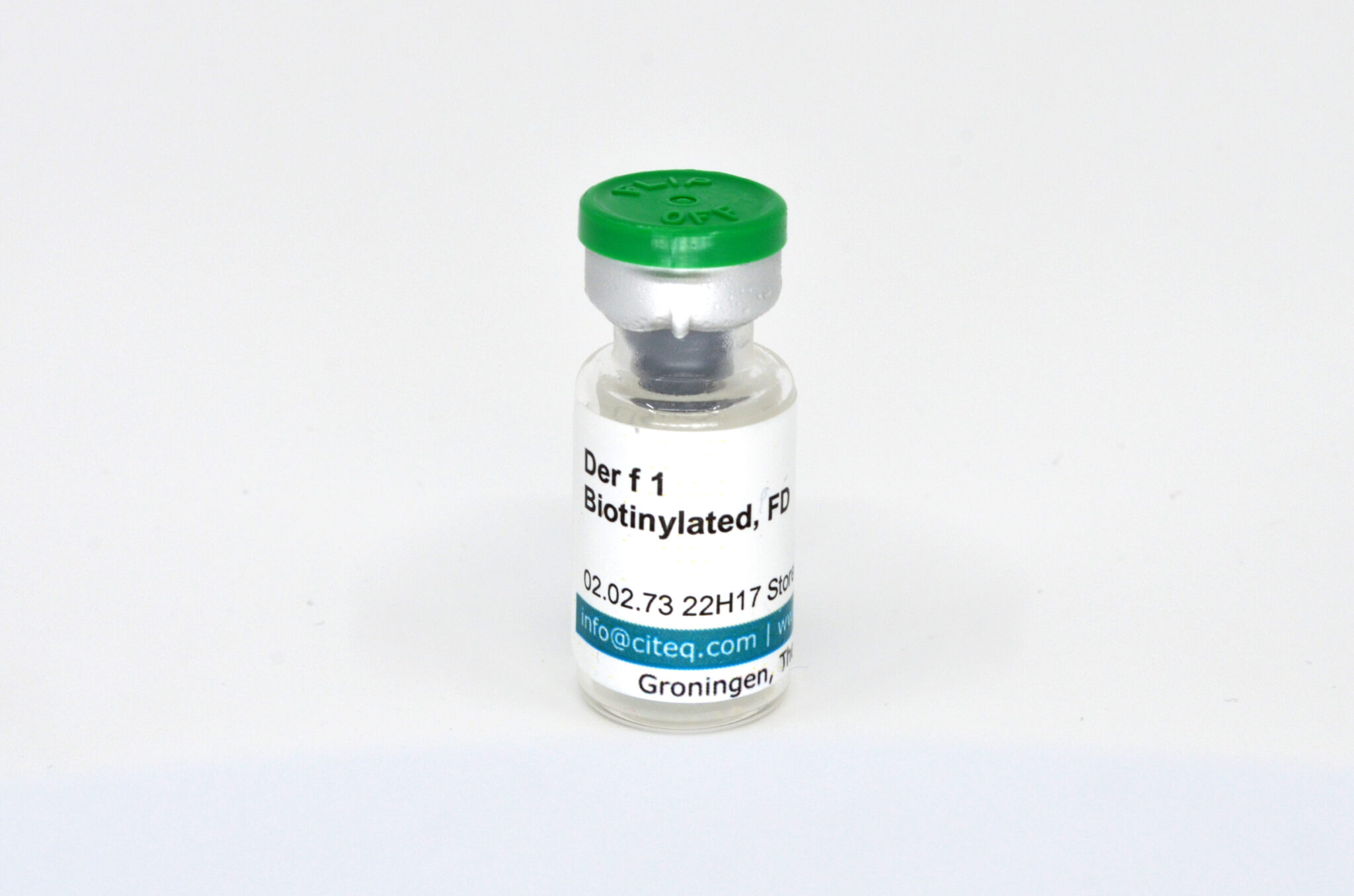 Biotinylated material
Biotinylated Der p 2
Freeze-dried
Defined
Customization
Woldwide delivery
Large batches
100% service
All of our products will be send with

Description
Biotinylated Der p 2
The unique biotinylated Der p 2 extract was developed especially for research and diagnostic groups. Biotinylated-Der p 2 can be used to detect specific antibodies in serum of animal models and/or patients. For example, in animal models, with detecting specific Der p 2 antibodies it can be shown that the animal is correctly immunized, or that the animal reacts on the treatment (an in- or decrease of levels of specific antibodies). When in patients the specific Der p 2-antibodies are detected it shows high levels of specific Der p 2-antibodies which indicates that the patient has house dust mite allergy.
During biotinylation biotin is attached to macromolecules or proteins. Biotinylated proteins can, due to the high specifity of biotin-avidin interaction, be used to detect and/ or purify proteins. Citeq has developed house dust mite related biotinylated proteins. These biotinylated proteins include D. pteronyssinus (HDM) extract and the natural purified Der p 1 protein and Der p 2 protein. Biotinylated proteins can be used for many protein assays. These protein assays include for example western blot analysis, fluorescence-activated cell sorting (FACS)/ flow cytometry and enzyme-linked immunosorbant assay (ELISA).
Freeze-dried, our material will be delivered in freeze-dried form (lyophilization) to assure a long shelf life and can easily be used to reach targeted dilutions. No animal or human components, our mites are cultivated on defined media without any animal or human components.
One vial of biotinylated Der p 2 is sufficient for coating of two 96 Microwell plates.
On this page you can read more about biotinylation and the protocol for our biotinylated proteins.
Are you interested in this product?
You can add this product to your quote request. Just choose the form you want and click on the "add to quote" button at the beginning of this page (no registration needed). We will contact you as soon as possible. Off course you can also send us an e-mail or give us a call.(specific sizes can be delivered on request).
Additional information
| | |
| --- | --- |
| Select form | Bio-Der p 2 (1 vial) |